Share this post in:
Wealth Advisors: Trusted Guides for Ultra High Net Worth Individuals
According to a survey by an exchange-traded fund company in New York, Global X Funds, many wealthy individuals and investors sometimes look to social media for market and investment information.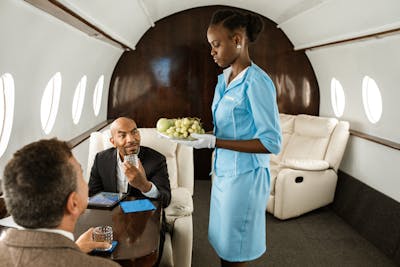 However, such information sources do not represent real-time insider information and remain unreliable. Most social media financial influencers are to be listened to with a pinch of salt.
The need for UHNW individuals to work with personal fiduciaries and trusted financial advisors in preserving wealth cannot be overstated. Wealth advisors remain unparalleled as wealth management tools.
Key Takeaways
Ultra high net worth (UHNW) individuals are persons worth over $30 million including assets and excluding liabilities
UHNW individuals face a number of challenges ranging from tax planning and estate planning to wealth management and family dynamics
Wealth advisors provide services that address these challenges such as investment and risk management as well as lifestyle and family office needs
Choosing a wealth advisor involves asking the right questions about their expertise in light of your needs and goals
Disclaimers
The contents of this article are for educational purposes only. They are not intended to serve as a source of professional financial advice. Experts on financial planning or wealth management can be reached here. More on disclaimers here.
Who is Considered a UHNW Individual?
An ultra-high-net-worth individual (UHNWI) is someone with a net worth exceeding $30 million USD. However, the threshold for UHNW status may vary depending on the source and context.
Other similar categories of high-net-worth individuals (HNWIs) include those with a net worth between $1 million and $30 million (traditionally referred to as "millionaires" or "multimillionaires"), and those with a net worth between $100,000 and $1 million (sometimes referred to as the "affluent" or "mass affluent").
It's important to note that net worth refers to the value of an individual's assets (such as cash, investments, real estate, and business interests) minus any liabilities (such as debt). Net worth is often used as a measure of financial wealth, and can be a useful way to compare the relative wealth of individuals and groups.
Financial Concerns for UHNW Individuals
Wealthy people in the US deal with several concerns including:
Tax Planning: wealthy individuals may face tax planning challenges which may include complex tax situations and need to navigate a variety of tax laws and regulations.
Estate Planning: wealthy people need to plan for the transfer of their wealth to future generations, which can involve complex legal and financial considerations.
Philanthropy: many wealthy individuals are interested in giving back to their communities and making a positive impact, but may need help navigating the various options and strategies available to them.
Wealth Preservation: managing and protecting wealth over the long-term can be a significant challenge, particularly in the face of market volatility and changing economic conditions.
Wealth Preservation: managing and protecting wealth over the long-term can be a significant challenge, particularly in the face of market volatility and changing economic conditions.
Wealth Advisors: What They Do
Wealth advisors are professionals who provide advice and guidance to individuals and families on managing wealth and achieving financial goals. They typically work with clients to develop a comprehensive financial plan that takes into account their income, expenses, assets, liabilities, and investment goals.
A wealth manager can provide a range of services, including investment management services, retirement planning, estate planning, tax planning, insurance planning, and risk management, among others. They may work independently or as part of a larger financial services firm.
Wealth Advisory Services for UHNW Individuals
UHNW (ultra-high-net-worth) advisors, also known as wealth management advisors, handle the complex financial needs of ultra high net worth clients. These advisors provide a range of services that may include:
Investment Management
UHNW advisors manage clients' investment portfolios and provide guidance on asset allocation, risk management, and investment strategy.
Wealth Planning
UHNW advisors develop comprehensive wealth plans that take into account clients' short-term and long-term goals, and address issues such as tax planning, estate planning, philanthropy, and intergenerational wealth transfer.
Family Office Services
Many UHNW advisors work with or within family offices, which are private organizations that manage the financial and personal affairs of wealthy families. These services may include investment management, financial planning, tax planning, bill payment, record-keeping, and concierge services.
Risk Management
UHNW advisors help clients manage a range of risks, including market volatility, liability claims, cybersecurity, and other potential threats.
Alternative Investments
UHNW advisors may provide access to alternative investments such as private equity, hedge funds, and real estate, which are often not available to the general public.
Lifestyle Services
UHNW advisors may provide concierge services and lifestyle management, such as travel planning, event planning, and luxury item purchases.
Overall, UHNW advisors provide a range of specialized services that are tailored to the unique needs of ultra-wealthy clients, helping them to achieve their financial goals and protect their wealth for future generations.
How Do I Find a Wealth Advisor?
Finding a personal financial advisor can be a daunting task, but there are several steps you can take to help identify and select a qualified advisor who is a good fit for your needs.
Here are some tips:
Determine Your Financial Goals and Needs
Before you start looking for a wealth advisor, it's important to identify your specific financial goals and needs. For example, do you need help with investment management, retirement planning, tax planning, or estate planning? Knowing what you need can help you find an advisor who has the expertise and experience to address your specific needs.
Ask for Referrals
Ask friends, family members, or colleagues who have worked with wealth advisors for recommendations. You can also ask your accountant, attorney, or other trusted professionals for referrals.
Research Potential Advisors
Once you have a list of potential advisors, do your own research to learn more about their background, experience, and qualifications. You can check the advisor's registration and disciplinary history with the Securities and Exchange Commission (SEC) or the Financial Industry Regulatory Authority (FINRA).
Schedule a Meeting
Arrange to meet with each potential advisor to discuss your financial goals and needs, and to learn more about the advisor's services, fees, and investment philosophy. This can help you get a sense of whether the advisor is a good fit for you and your financial goals.
Check References
Ask each potential advisor for references, and follow up with those references to learn more about their experience working with the advisor.
Consider Fees and Costs
Be sure to understand the fees and costs associated with each potential advisor's services. Some advisors charge a fee based on a percentage of assets under management, while others charge a flat fee or an hourly rate. Make sure you understand the fees and how they are calculated before making a decision.
By taking these steps, you can find a qualified wealth advisor who can help you achieve your financial goals and objectives.
Financial Planner vs Wealth Advisor: What's the Difference?
The terms "wealth advisor" and "financial planner" are often used interchangeably, and both refer to professionals who provide advice and guidance on managing personal finances. However, some slight differences occur between them:
Focus
Wealth advisors often work with high net worth individuals and families, and may specialize in managing investment portfolios and other assets. Financial planners, on the other hand, may work with a broader range of clients and provide advice on a wide range of financial topics, such as budgeting, insurance, retirement planning, and estate planning.
Compensation
Wealth advisors may be compensated through fees or commissions based on the assets they manage, while financial planners may be compensated through a fee for service or a commission on financial products they recommend.
Certifications
Both wealth advisors and financial planners may hold certifications such as Certified Financial Planner (CFP) or Chartered Financial Analyst (CFA), but the specific certifications may vary depending on their focus and specialty.
Scope of Services
Wealth advisors may focus primarily on investment management and financial planning, while financial planners may also provide broader services such as debt management, tax planning, and cash flow management.
It's important to note that there may be overlap between the services provided by wealth advisors and financial planners, and finance personnel may combine both roles.
3 Trusted Wealth Advisors for UHNW Individuals
The best wealth managers and advisors for UHNW individuals include:
William Huston
William, the Founder and Chief Investment Officer (CIO) of Bay Street Capital Holdings, is both an Accredited Investment Fiduciary (AIF®) and an Accredited Investment Fiduciary Analyst (AIFA®). As a fiduciary for custom long-only public equity portfolios, William is committed to serving his clients with integrity and objectivity.
Throughout his illustrious career, William has demonstrated his ability to provide excellent financial advice to athletes of all ages and experience levels. He offers objective services that help athletes better understand financial matters and make informed decisions.
In his current role, William oversees investment strategy, capital formation, and investor relations at Bay Street and its sister companies. His expertise has earned him recognition, including being ranked among the top 100 financial advisors by Investopedia.com in both 2021 and 2022. Additionally, Bay Street Capital Holdings is ranked as the second-best asset management firm out of 900 companies by Wealthmanagement.com.
Ekenna Anya Gafu, CFP®, AAMS®
Ekenna, the Director of Planning at Bay Street Capital Holdings, is both a Certified Financial Planner (CFP) and an Accredited Asset Management Specialist (AAMS). With over five years of experience in the brokerage industry, Ekenna is an exceptional financial advisor who consolidates comprehensive financial plans to help clients turn their financial goals into reality.
He specializes in generating effective financial plans, including reliable retirement plans, for clients. Ekenna's expertise also positions him as a go-to financial advisor for athletes looking for unique financial solutions.
Ila Corcoran
Motivated by necessity, Ila entered the finance and wealth management industry as a property manager, working as part of a team of four that managed 300 housing units. With her wealth of experience and expertise, Ila now serves as the Senior Vice President of Real Estate Operations at Bay Street, where she offers highly-focused services to American homeowners.
Ila is committed to educating professional athletes about real estate investment opportunities and is a volunteer in her free time, working to address housing insecurity through her non-profit housing initiatives.
Bay Street Capital Holdings
Bay Street Capital Holdings is an independent investment advisory, wealth management, and financial planning firm based in Palo Alto, CA. The firm is Black-owned and has a strong focus on managing total risk and volatility, with the goal of maintaining and increasing total assets and income. Unlike many advisors who prioritize maximizing returns, Bay Street places a higher emphasis on risk management.
William Huston, the founder of Bay Street, established the firm after 13 years of supporting the Thrift Savings Plan, the largest retirement plan in the United States with $650B in assets. He has been recognized as one of Investopedia's Top 100 Financial Advisors for 2022. In California, Bay Street is the only Black-owned firm among the twenty firms that received this recognition.
Ekenna Anya-Gafu CFP, AAMS, based in Scottsdale, Arizona, is recognized for his responsiveness, friendliness, helpfulness, and attention to detail, and is among the Best Financial Advisors. Bay Street was founded with the intention of advocating for diverse and emerging fund managers and entrepreneurs.
In 2021, Bay Street was chosen as a finalist in the Asset Manager for Corporate Social Responsibility category, out of over 900 firms across the United States.
Sources
https://www.nerdwallet.com/article/investing/wealth-advisor
https://www.investopedia.com/terms/w/wealthmanagement.asp
https://www.forbes.com/advisor/investing/financial-advisor/wealth-advisor/
https://www.marketwatch.com/story/where-do-rich-people-go-for-financial-advice-social-media-2018-07-20